Social media ad spending is on the rise. In 2022, marketers plan to invest more money in this strategy, as it's increasingly effective in bringing in business.
Creating effective social media ads is a great opportunity for your gym to increase awareness, drive in business, and grow your online community.
But what's the trick to a great social media ad? We've got 5 tips to help you get started.
1. Set Your Goal
Think of defining your goal as setting your social media ad on the right course. A well defined goal will shape how your ad campaign works, help it advertise in the right place, and ultimately determine how your ad will be optimized and charged.
Choose from three goals: Some examples of goals include:
Awareness: You want to extend your reach and increase awareness of your gym and its services.

Consideration:

You want to encourage people to think about using your services by driving traffic to your website or app, increasing engagement, or prompting them to provide you information.

Conversion:

You want people to take action by buying, downloading, or subscribing to your offer.
2. Target Your Audience
You might think that you want your entire city to know about your gym, so why not send out a blanket ad to everyone on social media who lives there? It seems logical, but that mentality will actually hurt you.
The fact is, not everyone in your city is interested or even potentially interested in your gym. Your strongest bet is to advertise to the people who indicate that they're interested in the services you offer.
Ask yourself, who are you marketing to? New moms, interested in losing baby weight? Strength training junkies who love a good health food bar? Professionals who need an outlet after work?
Help your ad get found by specifying what audience should see it. When you create your ad, hone in on your audience's hobbies, likes, interests and behaviors. So, get specific on who you're trying to attract to your gym.
💪

Pro Tips!
To narrow down your audience's interests, try this expert strategy:
Follow the Facebook and Instagram pages of your competitors and other businesses in your niche.
Continue for several days.
When you see competitors' ads, engage. Click on the CTA, comment, etc.
Facebook will learn your interests. Instagram will show them to you under your Profile → Settings → Security → Data Access → Ads → See All.
Use these interests to help you target your ads to the right audience.
3. Determine the Right Channels
Advertise on the social media channels that work for your audience. To do this, determine where your target audience is engaged the most.
For starters, take a quick look at the insights on your social media accounts. Compare and contrast the data, and you'll see where your followers are engaged the most.
In addition to that, consider your buyer persona, and then relate that to the general demographics of each social media channel. In 2021, Pew Research Center analyzed social media usage across channels and across demographics. Consider how your buyer persona aligns with usage statistics represented here.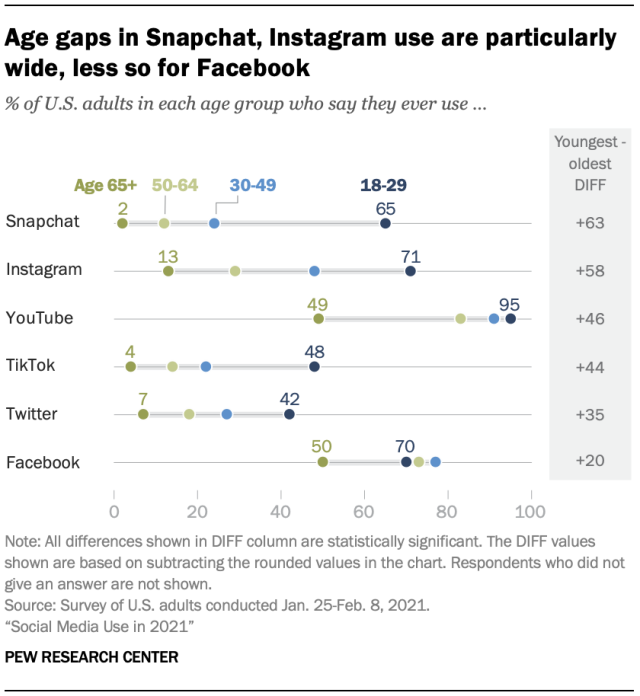 Ultimately, wherever you see your target audience engaging most, devote the majority of your budget there. Distribute the rest of your budget across platforms where it seems relevant, and adjust accordingly as you see your ads perform.
4. Include Video
There's no denying that video is essential to any marketing plan. For gyms, a good video is worth its weight in gold. To accompany your ad, select an excellent, clear video that draws people to your call to action.
For example, do you want people to sign up for classes? Show a video of gym members enjoying themselves as they sweat it out in your awesome group classes. Do you want to raise awareness of your gym? Assemble a short video slideshow featuring gorgeous images and videos of your facilities.
Videos will not only attract attention but they will pack power into your ad that plain content just doesn't have.
5. Measure
The overall key to great social media ad campaigns is YOUR engagement at the end: measuring and analyzing. When your ad campaign is over, examine your ads' performance across channels.
Find out:
What goal led to great results? What fell flat?
Which target audience worked well? Which didn't?
Which channel saw the most engagement? Which listened to crickets?
What visuals brought in great engagement? What didn't?
Use the answers to these questions to help you design even stronger social media ads next time. It's always a learning process, so use each campaign as an opportunity to learn.
Need Assistance?
Great Social Media Ads can take your business or organization to the next level. If you need professionals to design a strategy, drill down deep into your target audience, write terrific copy and analyze results, contact us now!
Your first consultation is ALWAYS FREE.